API Fertilizer Pack Competition *
Every order placed through our website before 13th of May 2014, automatically puts you into the draw to win a $48.40 API Fertilizer Pack.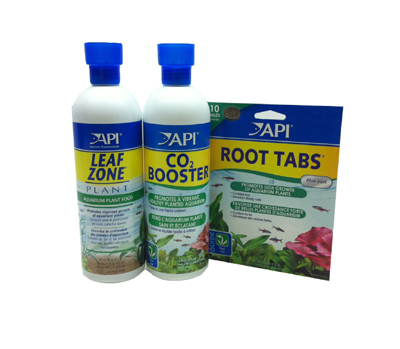 API Leaf Zone 473mL
Promotes the lush, beautiful growth of aquatic plants. Leaf Zone is formulated for rapid absorption through plant leaves.
Contains both chelated iron, to promote growth and prevent yellow, decaying leaves, and potassium, which aids in photosynthesis and cell pressure maintenance for strong, hardy and colourful leaves.
Directions for use:
Add 5 mL per 38L of aquarium water. Repeat dose once a week.
+
API CO2 Booster 473mL
Adds essential liquid carbon for planted aquariums
BENEFITS:
A vibrant, healthy planted aquarium
Aquatic plants also require carbon to fuel the photosynthetic process and turn light energy and nutrients into new plant growth. Carbon deficiency is one of the leading causes of poor plant growth in aquariums. CO₂ BOOSTER® adds essential carbon in a form plants can absorb from the water. Supplies simple carbon compounds and slowly releases CO₂ to the plants. Can be used alone or with CO₂ systems. Safe for use with freshwater fish and will not alter pH. Simple once a day dose.
DIRECTIONS:
Use the API® Dosing Cap on the Bottle. Add 1ml per 37 Litres of aquarium water or 5ml for 190 Litres. Dose once a day.
Treats:
473mL 17,790 Litres
+
API Root Tabs – 10 Tabs
Promotes lush, green growth in aquarium plants. A superior plant fertilizer in tablet form. Contains key essential nutrients, including iron & potassium. Gets new plants off to a good start and keeps established plants flourishing.
Rich in iron Promotes
Strong root development
Long-lasting formula — feeds plants for a month
Use in freshwater aquariums
Will not harm fish
DIRECTIONS:
Add 1 tablet for each 30 square inches (194 sq. cm) of gravel surface. Push midway into the gravel bed. Add new tablets monthly for optimum plant growth.

* Competition entry closes 13/05/14 @ 6pm. Competition is only open to purchases made prior to 13/05/14. Winning entry will be announced on the 20/04/14. Please allow up to 2 weeks after announcement for prize to arrive.